プロフィール
レンタキャン北海道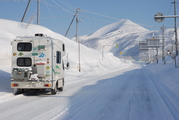 C
北の大地「北海道」、空の玄関「新千歳空港」にほど近い千歳市にあるキャンピングカーレンタル会社「レンタキャン札幌」です。
キャンピングカーだからこそ出会える素晴らしい絶景に是非出会いにいらしてください。
RENTACAN HOKKAIDO is the office of the rental motorhomes.
It is located close to THE NEW CHITOSE AIRPORT in Hokkaido,Japan.
You can see wonderful views in Hokkaido by using our motorhomes.
Also you can get great experiences.
Please visit us if you have a good oppotunity.
calendar
categories
archives
recommend
links
profile
search this site.
others
mobile
powered